Mountains!
Here's how you can add an image: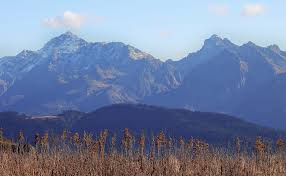 Toyama

Toyama Prefecture is located approximately in the center of Honshu, Japan and is bordered by Niigata and Nagano Prefectures to the east, Gifu Prefecture to the south, and Ishikawa Prefecture to the west. Toyama is a topographically impressive prefecture. Mountains wall in the prefecture on three sides and the deep bay rests nestled in the crook formed by the rolling plains. It is a compact prefecture, reaching out in a radius from its capital, Toyama City, only 50 km in each direction.Additionally, with its central position in Japan Sea region and a history laden with contact with the Asian continent, Korean Peninsula, and other rim countries, Toyama is at the center of activities in the Japan Sea region

Firefly Squid

These squid migrate through Toyama Bay from March to June to spawn. Called the enigma of Toyama Bay, this mysterious squid glows with a blue-white light in the darkness of the sea.

Summer in Japan is from June to August. The heat can be extreme but there are ways to remain cool and make the most of this hot period. We introduce the weather, the best summer destinations, festivals and activities, and tips on how to enjoy this season
inside wovn ignore content, content should be ignored here
inside ignore attributes, Adeed some content for wovn attributes
inside ani
To learn more HTML/CSS, check out these tutorials!